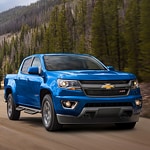 An Introduction to the Chevrolet Colorado

The four trim levels that are available in the lineup of the new Chevrolet Colorado provide drivers with excellent features and great styling. The new Colorado is available in four configurations, with two cab sizes and two truck bed sizes offered for the truck.

Interior Design Features

The Chevrolet Colorado provides seating for five occupants in all of its configurations. A 7.0-inch touchscreen display and a larger 8.0-inch touchscreen display are both available for the dashboard of the Colorado.